Mattress Maintenance and Care
Proper maintenance is the key to extend the life of your mattress. Follow the instructions below to give your mattress the best care:
1. Remove the polythene bag before use.
2. It is very important to turn your mattress from head to toe and flip upside down every 3 months to equalize body impressions. Body impressions are formed because the quality filling layers conform to your body contour after some time. Less than 1.5 inches compression of upholstery material is considered as normal body impression and not sagging. Therefore it is not covered by the warranty service. (The non-flip mattresses come with pillow top or having a different type of finishing at bottom. They are only required to turn from head to toe).
3. All Slumberland mattress avoid using wire mesh, any foundation with weak support and slatted bedframe.
4. Do not iron clothes or place any heat source on mattress to prevent damage.
5. Do not stand or jump onto the mattress, sit on the edge, or allow heavy pressure on any particular area of the mattress as it may cause damage to the pad and the spring coils.
6. Do not wash or dry clean your mattress. To remove stains, gently rub the stained surface immediately with a wet cloth and wait until dry before using.
7. Always use a Slumberland mattress protector pad on your mattress to avoid stains and soiling.
8. Leave your mattress uncovered from bed sheet/cover for several hours each week. Slumberland mattress has special ventilators to induce movement of fresh air in and out of the mattress freely. It will help to keep the internal upholstery layers dry and hygienic.
9. Keep it dry to extend the life of a mattress.
10. Do not place the mattress directly on floor to prevent the moisture from affecting the quality of mattress.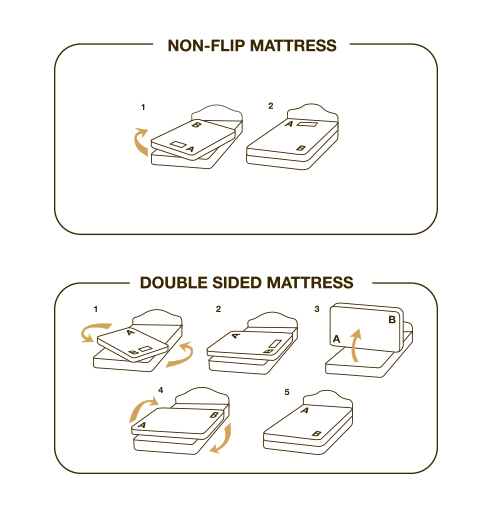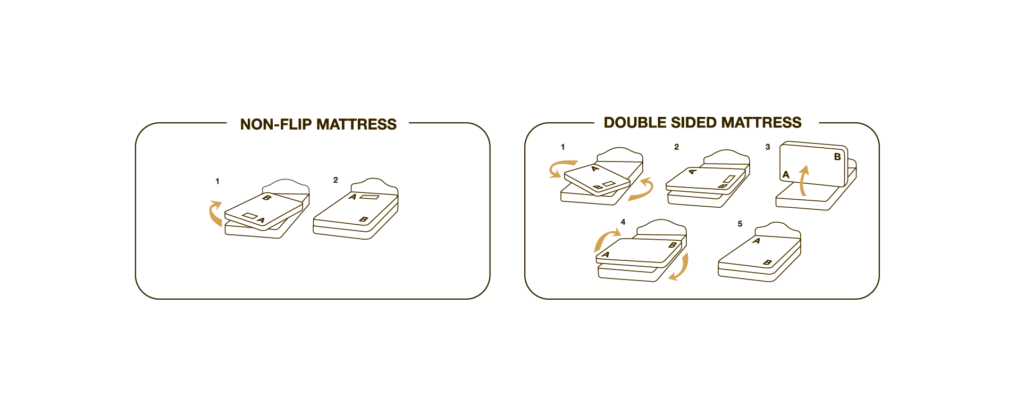 Your Non-Flip mattress has a different type of finish on the bottom form the top surface.
The bottom finish assists in reducing mattress movement on the spring divan.
In an effort to fully maximise the comfort performance of the product,
rotate the mattress from head to toe to assist in equalising the body impressions
that will occur in a high quality new mattress.